Vang Vieng is a small town in Laos located in the Vientiane Province, and it's known for the karst hills landscape surrounding it. The city is a nice center for outdoor adventures and lazy days. A must see place when visiting Laos.
In a city where everything is an adventure you have to be willing to leave some fears behind so you can enjoy the various outdoor activities the city offers. So let's get this adventure started.
Source: BeenInAsia
One of the main attractions of the city is the inner tubing, where you can rent a tubing from one of the offices in town, go to the starting tubing route, jump in your tube and start floating. You can even stop at bars on your way to drink a couple of beers, and continue experiencing the amazing scenery. In the past this activity was known to be wild and a lot of people got way too drunk and into trouble, but since then, the Laos government has came out with some new regulation to tubing. So nowadays is pretty chill. Also, on your will you will se several caves and pools of fresh spring water that you can stop at.
Source: PorkysPackers
The caves in Vang Vieng are a must see as well, most of them easy to reach by motorbike, cycle or foot. It is recommended to go to the caves with a local guide – that you can meet on GLYD – or join a tour. The caves are a great place to visit because each one of them is very particular and tells a different story, weather is a legend or a historical fact.
Source: LaosHostels
Like I said, in Vang Vieng you will not find an indoors activities, and the next is Trekking in the amazing limestone mountains surrounding the city. You will spend the entire day watching natural landscape while walking along the marked trails, or strolling on the cultural side to strop by peaceful temples.
Now here is one you I was not expecting and I bet you were not as well, you can also ride a hot air ballon and float above the city, it will give you a panoramic view of the surrounding area and an amazing landing. Not to worry, the hot air ballon in operated strictly under international laws and standards, and your pilot will be an internationally trained hot air ballon pilot with many years of experience, so in case you were wondering, there's nothing to fear. You can just jump on in and enjoy until the last second of it.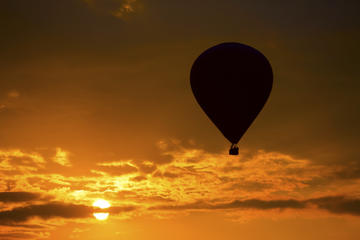 Source: Viator
Vang Vieng also has a blue lagoon, a stunning turquoise blue, clean and refreshingly cold place filled with loads of fish, rope swings, and ladders. It is amazing to go just to see your friends and everyone jumping from on to another and then on the lagoon. It is definitely a great place to have a chill afternoon with friends.
Source: Twimg
If you are tired of the high atmosphere and wants to come down to the ground a little bit you should go to one of the most amazing swimming pools in Laos. This pool deck has a panoramic mountain view and is the ideal place to unwind after a week of many adventures. You will enjoy the view and the pool with some cocktails and tapas that are served along the sun lounger.
Source: Pinterest
This destination is definitely one for you bucket list!